Riccardo Chailly (conductor), Gewandhausorchester Leipzig - Beethoven: Symphonies Nos. 5 & 7 [SHM-CD] (Japan Import)
JPN-UCCD-51001
Format: SHMCD
Release Date: 4/26/2017
Price: $33.65



Riccardo Chailly (conductor), Gewandhausorchester Leipzig - Brahms: Symphonies Nos. 1 & 3 [SHM-CD] (Japan Import)
JPN-UCCD-51004
Format: SHMCD
Release Date: 4/26/2017
Price: $33.65



Riccardo Chailly (conductor), Gewandhausorchester Leipzig - Brahms: Symphonies Nos. 2 & 4 [SHM-CD] (Japan Import)
JPN-UCCD-51005
Format: SHMCD
Release Date: 4/26/2017
Price: $33.65



Riccardo Chailly (conductor), Gewandhausorchester Leipzig - Brahms: Orchestral Works [SHM-CD] (Japan Import)
JPN-UCCD-51028
Format: SHMCD
Release Date: 4/26/2017
Price: $33.65



Riccardo Chailly (conductor), Gewandhausorchester Leipzig - J.S. Bach: Brandenburg Concerti Nos.1-3 & 5 [SHM-CD] (Japan Import)
JPN-UCCD-51058
Format: SHMCD
Release Date: 4/26/2017
Price: $33.65



Stefano Bollani (piano), Riccardo Chailly (conductor), Gewandhausorchester Leipzig - Gershwin: Rhapsody in Blue, Piano Concerto in F [SHM-CD] (Japan Import)
JPN-UCCD-51065
Format: SHMCD
Release Date: 4/26/2017
Price: $33.65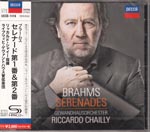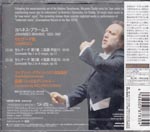 Riccardo Chailly (conductor), Gewandhausorchester Leipzig - Brahms: Serenades [SHM-CD] (Japan Import)
JPN-UCCD-1416
Front - Large / Medium - Back - Large / Medium
Format: SHMCD
Release Date: 3/4/2015
Price: $50.65



Vadim Repin (violin), Truls Mork (cello), Riccardo Chailly (conductor), Gewandhausorchester Leipzig - Brahms: Violin Concerto, Double Concerto (Japan Import)
JPN-UCCG-1442
Format: CD Album or Maxi Single
Release Date: 11/26/2008
Price: $42.62

Description: This highly anticipated second DG release from Vadim Repin, one of today's most celebrated violinists, features Brahms' romantic Violin Concerto and Double Concerto. As a student, Repin was coached on the Violin Concerto with Yehudi Menuhin. For the Double Concerto, Repin is joined by cellist Truls Mork. All are under the baton of Riccardo Chailly, leading the Leipzig Gewandhausorchester.