Otto Klemperer (conductor), Philharmonia Orchestra & Chorus - J.S. Bach: St. Matthew Passion [SACD Hybrid] (Japan Import)
JPN-WPCS-13138
Format: SACD
Release Date: 5/13/2015
Price: $92.96



Otto Klemperer (conductor), Philharmonia Orchestra & Chorus - Brahms: Ein Deutsches Requiem (Japan Import)
JPN-WPCS-23100
Format: CD Album or Maxi Single
Release Date: 8/20/2014
Price: $29.66



Otto Klemperer (conductor), Philharmonia Orchestra - Mendelssohn: Symphonies Nos. 3 'Scottish' & 4 'Italian' (Japan Import)
JPN-WPCS-23008
Format: CD Album or Maxi Single
Release Date: 6/18/2014
Price: $29.66



Otto Klemperer (conductor), Philharmonia Orchestra & Chorus - Mendelssohn: A Midsummer Night's Dream (Japan Import)
JPN-WPCS-23023
Format: CD Album or Maxi Single
Release Date: 6/18/2014
Price: $29.66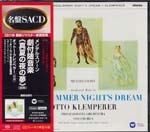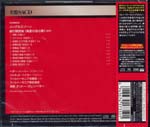 Otto Klemperer (conductor), Philharmonia Orchestra & Chorus - Mendelssohn: A Midsummer Night's Dream [SACD Hybrid] (Japan Import)
JPN-WPGS-50103
Front - Large / Medium - Back - Large / Medium
Format: SACD
Release Date: 12/7/2011
Price: $49.07



Otto Klemperer (conductor), Philharmonia Orchestra - Mozart: Symphonies Nos. 25, 38 & 39 [HQCD] (Japan Import)
JPN-WPCS-51173
Format: HQCD
Release Date: 10/20/2010
Price: $25.73



Otto Klemperer (conductor), Philharmonia Orchestra - Mozart: Symphonies Nos. 35, 40 & 41 [HQCD] (Japan Import)
JPN-WPCS-51175
Format: HQCD
Release Date: 10/20/2010
Price: $25.73



Otto Klemperer (conductor), Philharmonia Orchestra - Mendelssohn: Symphonies Nos. 3 & 4 [HQCD] (Japan Import)
JPN-WPCS-51176
Format: HQCD
Release Date: 10/20/2010
Price: $25.73



Otto Klemperer (conductor), Philharmonia Orchestra & Chorus - Mendelssohn: Ein Sommernachtstraum [HQCD] (Japan Import)
JPN-WPCS-51188
Format: HQCD
Release Date: 10/20/2010
Price: $25.73



Otto Klemperer (conductor), Philharmonia Orchestra - Romantic Overtures [HQCD] (Japan Import)
JPN-WPCS-51192
Format: HQCD
Release Date: 10/20/2010
Price: $25.73



Otto Klemperer (conductor), Philharmonia Orchestra - Dvorak: Symphony No. 9 "From New World" [HQCD] (Japan Import)
JPN-TOCE-91013
Format: HQCD
Release Date: 9/22/2010
Price: $25.73



Otto Klemperer (conductor), Philharmonia Orchestra - Beethoven: Symphonies Nos. 1 & 7, Coriolan Overture [HQCD] (Japan Import)
JPN-WPCS-51144
Format: HQCD
Release Date: 9/22/2010
Price: $25.73



Otto Klemperer (conductor), Philharmonia Orchestra - Beethoven: Symphony No. 3, Fidelio Overture, Leonore Overture No. 3 [HQCD] (Japan Import)
JPN-WPCS-51145
Format: HQCD
Release Date: 9/22/2010
Price: $25.73



Otto Klemperer (conductor), Philharmonia Orchestra - Beethoven: Symphonies Nos. 5 & 8, Egmont Overture [HQCD] (Japan Import)
JPN-WPCS-51146
Format: HQCD
Release Date: 9/22/2010
Price: $25.73



Otto Klemperer (conductor), Philharmonia Orchestra - Beethoven: Symphony No. 6, King Stephen Overture [HQCD] (Japan Import)
JPN-WPCS-51147
Format: HQCD
Release Date: 9/22/2010
Price: $25.73



Otto Klemperer (conductor), Philharmonia Orchestra & Chorus - Beethoven: Symphony No. 9 "Choral" [HQCD] (Japan Import)
JPN-WPCS-51148
Format: HQCD
Release Date: 9/22/2010
Price: $25.73



Otto Klemperer (conductor), Philharmonia Orchestra - Dvorak: Symphony No. 9 "New World" [HQCD] (Japan Import)
JPN-WPCS-51149
Format: HQCD
Release Date: 9/22/2010
Price: $25.73



Otto Klemperer (conductor), Philharmonia Orchestra - J.S. Bach: Brandenburg Concertos [HQCD] (Japan Import)
JPN-WPCS-51156
Format: HQCD
Release Date: 9/22/2010
Price: $36.39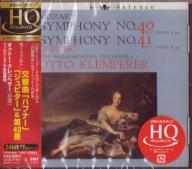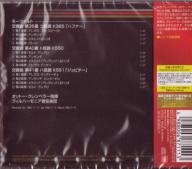 Otto Klemperer (conductor), Philharmonia Orchestra - Mozart: Symphonies Nos. 35, 40, 41 [HQCD] [Limited Release] (Japan Import)
JPN-TOCE-90061
Front - Large / Medium - Back - Large / Medium
Format: HQCD
Release Date: 3/18/2009
Price: $43.43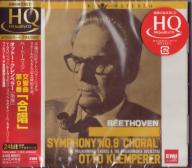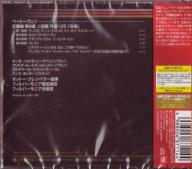 Otto Klemperer (conductor), Philharmonia Orchestra & Chorus - Beethoven: Symphony No. 9 "Choral" [HQCD] [Limited Release] (Japan Import)
JPN-TOCE-90064
Front - Large / Medium - Back - Large / Medium
Format: HQCD
Release Date: 3/18/2009
Price: $43.43



Otto Klemperer (conductor), Philharmonia Orchestra - Beethoven: Symphony No. 3, Overtures (Japan Import)
JPN-8-111303
Format: CD Album or Maxi Single
Release Date: 2/25/2009
Price: $25.66

Description: Otto Klempererís complex artistry combined a remarkable understanding of architectural structure, a loving attention to detail and immense subtlety. Nowhere was this more evident than in his authoritative and compellingly lucid readings of Beethovenís music. This 1955 Eroica is a notable example, the young but fully seasoned Philharmonia Orchestra responding superbly to Klempererís weighty and deliberate conception, which is yet rhythmically buoyant and filled with dynamic contrast. The highlight of this recording is the second movement Funeral March, solemn, tender and noble, whose universal pathos never lapses into sentimentality.



Otto Klemperer (conductor), Philharmonia Orchestra - Brahms: Ein Deutsches Requiem (Japan Import)
JPN-WPCS-50062
Format: CD Album or Maxi Single
Release Date: 8/22/2007
Price: $30.04



Otto Klemperer (conductor), Philharmonia Orchestra - Beethoven: Symphonies Nos. 1 & 8 (Japan Import)
JPN-UCCN-1086
Format: CD Album or Maxi Single
Release Date: 7/11/2007
Price: $39.35



Otto Klemperer (conductor), Philharmonia Orchestra - Beethoven: Symphonies Nos. 2 & 7 (Japan Import)
JPN-UCCN-1087
Format: CD Album or Maxi Single
Release Date: 7/11/2007
Price: $39.35